About Hospitals
LPN/RN Information Coming Soon
In-Hospital Sitter
Requirements:
Must be 18 years of age or older
The ability to record messages and keep simple records, as well as the ability to understand and carry out directions and instructions
The ability to provide medical examination indicating good health and freedom from any communicable diseases within the past 12 months along with proof of current PPD, proof of Rubella and Rubeola (MMRs) and current flu vaccination
Duties to be Performed:
To receive and implement directions regarding the care to be provided
To communicate with the Charge Nurse on unit regarding breaks and meal schedules
To complete time slip signed by the Charge Nurse before leaving shift(s)
To provide services subject to the rules and regulations of the community hospital unless directed otherwise by hospital staff or DDSOO staff
To interact with hospitalized individual(s), assisting with their adjustment to a new environment, as well as interpreting and communicating their needs to appropriate hospital staff
To provide individualized assistance based upon the patients' needs including but not limited to communicating preferences in foods and diet consistencies
To observe patient responses to treatment and reporting them orally to the appropriate hospital staff
To maintain a communication log to report applicable observations to the incoming sitter staff
To limit behavioral intervention (soothing, reassuring etc.) if the individual is exhibiting agitated or anxious behavior
To assist patients with grooming activities (combing hair, brushing teeth, cleaning fingernails, shaving, applying powders/lotions etc.)
To assist hospital staff as necessary/directed with

Ambulating
Bathing or showering
Toileting needs
Changing bedding
Repositioning patients
Patient food and/or fluid intake
The provision of social interaction, attention, companionship and engaging the individual in meaningful activities
Escorting the patient to inpatient hospital treatments and/or testing

To provide a written statement at the end of each shift, commenting on the individual's care, condition and any other pertinent information. This documentation is to be given to the hospital staff for inclusion in the individual's record
Services/duties are "AWAKE" positions of the shift assignment. Sleeping on duty will not be tolerated and will result in immediate removal of the sitter from their assignment and the sitter may not be allowed to return to future assignments with DDSOO. The DDSOO reserves the right to not compensate the Contractor for shifts with sleeping sitters.
Sitters MAY NOT:
Provide informed consent for person's medical treatment
Sign admission, discharge or transfer agreements between the hospital and DDSOO staff/administration
Administer medication, IVs, oxygen or other medical treatments
Take vital signs
Change bandages/dressings
Apply or monitor restraints ordered by hospital staff or physicians or participate in personal intervention techniques (manual holds)
Perform housekeeping/janitorial care such as cleaning the person's bathroom or bedroom
Execute charting or recording
Work more than 16 consecutive hours on any shit or combination of shifts with an individual either through DDSOO or a private care individual while sitting with a DDSOO individual. Hospital sitters must also have not worked more than 8 hours at another site or with another employer, in any capacity, in the 24-hour period prior to the assignment to this service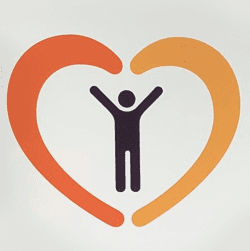 "Jessica is an absolute pleasure to have at Warren Center… She is very respectful, the residents and families love her, and she is a great nurse."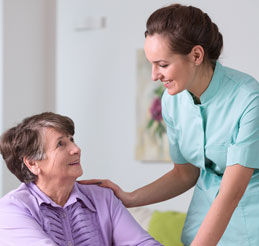 "We've been using Nurse Connection Staffing for some time now, and they have helped us tremendously with our staffing needs.

Their employees are such a pleasure to work with and are very reliable — always coming in with a smile on their face and acting as professionals.

The experience and care their staff have brought has been so much help to us, making the residents' stay here better for them and their families. We couldn't ask for better!"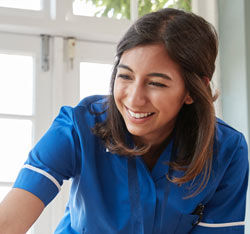 "I've only been with the company for about a week now and the staffing team's performance and professionalism is wonderful! They are quick, and always stay in contact! Your staffing team is pleasant and helpful when I call for any reason."
Need staff?
Look no further — we're here to help!

Contact us

below and we'll be in touch soon.