About Correctional Facilities
Licensed Practical Nurse (LPN)/Registered Nurse (RN)
Nurse Connection Staffing provides Licensed Practical Nurses (LPN) as well as Registered Nurses (RN) to Correctional Facilities located across New York State.
When working as a Licensed Practical Nurse (LPN) or Registered Nurse (RN) in a Correctional Facility setting, we are prepared with the following working conditions and expectations:
Required:
Valid NYS license as a Licensed Practical Nurse or Registered Professional Nurse
Certification called the "Correctional Certification for Healthcare Personnel" (CCHP), provided by the Convention for National Healthcare. However, it is not a requirement at most correctional facilities.
Continued education is available for nurses who desire to care for inmates.
Expectations of Role for LPN / RN:
If you are an LPN/RN with clinical experience, good assessment skills and the ability to function independently, correctional facilities could be a good place to exercise your nursing judgement and skills.
Correctional Facilities may or may not have full-time doctors, especially those located far from largely populated centers and hospitals. The facilities that do not have a full-time doctor rely on Nurses to make correct clinical decisions, acting on them promptly and efficiently.
Correctional Nursing is much like Hospital Nursing albeit with more responsibility. For example, a unique condition called delirium, related to methamphetamines, is a potentially lethal problem seen by Correctional Facility Nurses. The Nurse might be the first healthcare professional to see an inmate patient who has been injured.  The expectations of this role goes as follows:
Acting quickly to give first aid or recognizing and treating an adverse drug reaction
Providing care for chronic illnesses such as diabetes and hypertension
Explaining basic information such as the names of drugs the patient is taking and what they are for
Suicide is an ever-present threat; nurses must know what to look for in patients in need of suicide precautions
A unique condition called delirium, related to methamphetamines, is another potential deadly problem seen by Correctional Facility Nurses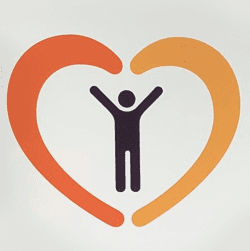 "Jessica is an absolute pleasure to have at Warren Center… She is very respectful, the residents and families love her, and she is a great nurse."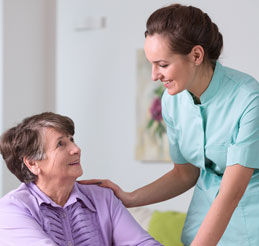 "We've been using Nurse Connection Staffing for some time now, and they have helped us tremendously with our staffing needs.

Their employees are such a pleasure to work with and are very reliable — always coming in with a smile on their face and acting as professionals.

The experience and care their staff have brought has been so much help to us, making the residents' stay here better for them and their families. We couldn't ask for better!"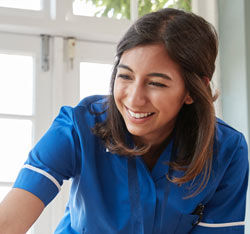 "I've only been with the company for about a week now and the staffing team's performance and professionalism is wonderful! They are quick, and always stay in contact! Your staffing team is pleasant and helpful when I call for any reason."
Need staff?
Look no further — we're here to help!

Contact us

below and we'll be in touch soon.